About Us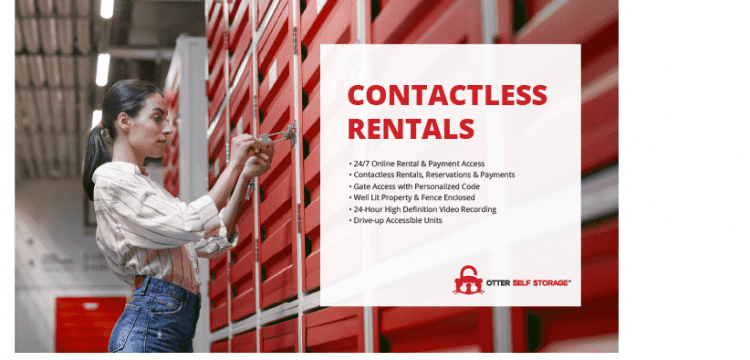 At Otter Self Storage, we value your time. That's why we've streamlined the self storage process with contact-free rentals, convenient features, and a wide range of unit sizes. When you need more room in your home or business, you can count on our affordable, convenient storage solutions. We have self storage facilities throughout the United States. Discover more about Otter Self Storage below, or find a self storage facility near you today.
The Otter Self Storage Difference
Whether you're decluttering your home, expanding your store's inventory, or moving home from college, Otter Self Storage understands how busy your schedule is. At other self storage facilities, you have to stand in long lines or deal with wait times over the phone to rent a storage unit. When you choose Otter Self Storage, you can complete your storage unit rental process in minutes! All of our storage facilities offer 24/7 contact-free rentals. From making a payment to accessing your account information, you can take care of everything from the comfort of your home or business.
Convenient, Contact-Free Self Storage
Every stage of life has its challenges, but self storage shouldn't be one of them. For an easier, more convenient storage experience, count on Otter Self Storage. We offer a wide range of storage unit sizes. Create closet space with a 5' x 5' storage unit, or store all the belongings from your four-bedroom home in a gigantic 10' x 30' unit. You can even store vehicles in some of our larger units. Contact our call center for more information about available unit sizes and storage options.
Price Match Guaranteed for all Storage Units
In addition to your busy schedule, Otter Self Storage takes your budget into consideration. If you find a storage unit at another storage facility near you, we promise to match the price of that same size unit when you rent with us. The competitor's storage facility must be located within a 3-mile radius of our facility.
Self Storage Features Tailored to Your Needs
Each of our storage facilities provides premium features and amenities designed with you in mind. Plan to store vinyl records, wooden furniture, or other temperature-sensitive items? Choose one of our climate-controlled storage units. Climate-controlled storage maintains a cool storage environment for your belongings, no matter what the forecast may hold. Other features and amenities you can find at an Otter Self Storage facility near you include:
Indoor and outdoor boat storage
Indoor and outdoor RV storage
Indoor storage
Drive-up accessible units
Enclosed properties
And more
State-of-the-Art Security Measures
Your peace of mind matters at Otter Self Storage. In addition to fenced, well-lit facilities, we provide a wide range of security measures, such as gated entrances with coded access and 24-hour digital video recording. If you have any questions about our security measures, contact our call center to learn more.
Find Your Otter Self Storage Solution Today
When you need convenient, affordable self storage, look no further than Otter Self Storage. Our storage solutions are always contact-free, and you can rent any of our units online, 24/7. We're committed to helping you create the space you need in your home or business. Find an Otter Self Storage facility near you today!