Self Storage Features
From moving to college to downsizing for retirement, life is full of transitions. When you need more storage space, head to Otter Self Storage. We offer convenient, affordable self storage options, security measures for your peace of mind, and 24/7 online rentals. In addition to a wide range of storage unit sizes, we also offer premium storage features and amenities for your convenience. Discover more about our features below, or find an Otter Self Storage facility near you today!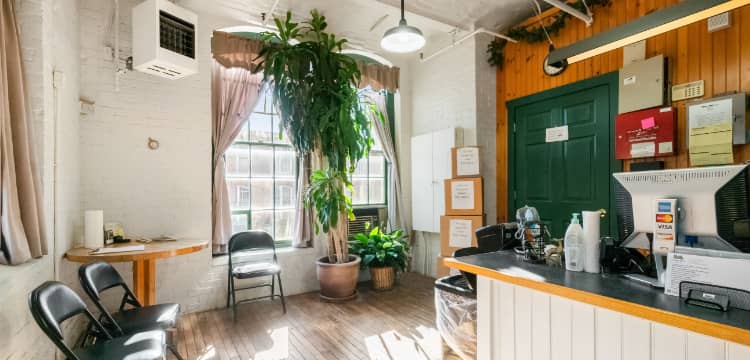 Convenient, Accessible Storage Facility Locations
At Otter Self Storage, we strive to make your storage experience as easy as possible. When you rent a unit at one of our contact-free storage facilities, you can rest easy knowing your storage unit is close to your home or business. Many of our state-of-the-art storage facilities are located near major roads, highways, residential areas, and commercial centers. Find an Otter Self Storage near you in the following states:
Wide Variety of Self Storage Options
No matter the kind of self storage you need, you can find the unit that's right for you at Otter Self Storage. Our storage units range in size from 5' x 5' to 10' x 30' for your convenience. If you're planning a closet decluttering, moving day, or store renovation, you'll find the right space at one of our storage facilities. We also offer outdoor parking and enclosed units for boat, RV, and vehicle storage. Don't feel like making long trips from your vehicle to your storage unit? Several of our storage facilities feature drive-up accessible units to help you save time and energy. Park your personal vehicle or moving truck in front of your unit and start unloading!
Climate-Controlled Storage
If you have temperature-sensitive belongings, choose our climate-controlled storage. Climate control is a helpful feature designed to minimize the risk of your belongings warping, cracking, or melting due to extreme temperatures. Common items stored in climate-controlled storage include: Wooden furniture Vinyl records Electronics And more
Personal Storage
When you're preparing for a move, remodeling your kitchen, or purging your closets, Otter Self Storage has you covered. You can store furniture, home decor, and other belongings in one of our personal storage units.
Commercial Storage
If you're a business owner, you can make self storage one of your most valuable assets. When you need more space in your office, restaurant, or retail store, store your business records, inventory, and more in one of our larger storage units for business.
Student Storage
Feeling cramped in your dorm room? Move your seasonal clothing, sports equipment, and other college belongings into an Otter Self Storage unit near you. We offer affordable rates and guaranteed price matches with other facilities within a three-mile radius.
Military Storage
If you're transferring to a new base or preparing for a deployment, Otter Self Storage can help. Our wide selection of unit sizes and 24/7 online rentals are ideal for you and your busy schedule as a service member or military spouse.
Security Features for Your Peace of Mind
At Otter Self Storage, we provide several security measures to give you an extra layer of confidence for your stored belongings. Our storage facilities are well-lit with gated and keypad-enabled entrances. Other security measures you can find at Otter Self Storage include: Personalized access codes Digital video recording Fenced properties Security measures may vary by facility, so contact our helpful call center to learn more.
Rent Your Otter Self Storage Unit Today
When you need convenient self storage, look no further than Otter Self Storage. In addition to our contact-free self storage experience and 24/7 online rental process, we provide a wide variety of features and amenities designed to make self storage easier. Start storing with us today—find a storage facility near you!