10 Tips for Your Permanent Change of Station Move to Killeen, TX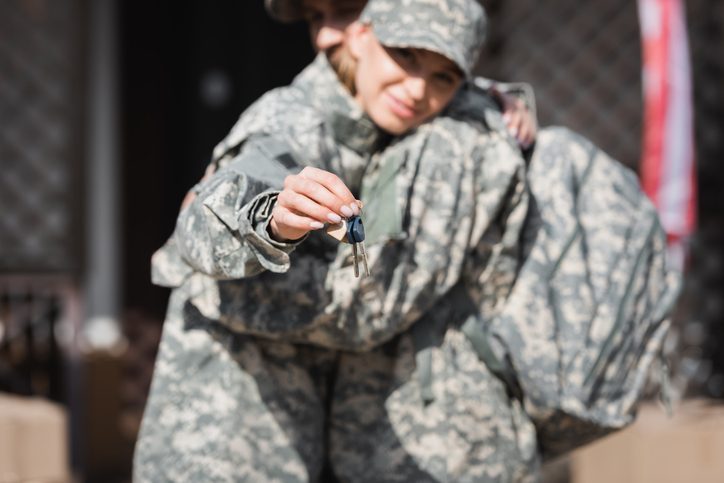 Whether you're an active service member or a military spouse, a permanent change of station (PCS) order can be both exciting and intimidating. Transferring to another duty station means opportunities to meet new people, see new places, and try different things, but it also means adjusting to some big changes. And in a state with a big personality like Texas, those changes can feel even bigger.
If you're preparing for a permanent change of station to Fort Hood in Killeen, TX, count on Otter Self Storage's helpful tips. From breaking down the basics of a PCS move to creating more space with self storage, learn how to ease your moving stress with our team.
What is a Permanent Change of Station?
If this is your first PCS move for the U.S. Army, you may be wondering how it differs from deployment or a temporary duty assignment. Your duty station is the city or town where you primarily live or work. When service members receive deployment orders, they may be sent away from their duty station.
A deployment lasts for 6 – 12 months, then the service members return to their duty station. A temporary duty assignment can be even shorter, ranging from two to 189 days in length. A permanent move of station means transferring to a new station location for at least two years.
You or your loved one may receive PCS orders based on your role and duties in the military. Common reasons that may require a permanent change of station include technical training that only a certain station provides, or your skills are needed at a different base.
How Can I Adjust to My Permanent Change of Station?
Unless you have family in the Lone Star State, moving to Killeen, TX, will mean putting some distance between you and civilian friends and family in your current city. Located in Central Texas, Killeen is roughly a 3.5-hour drive from Oklahoma's southern border, a 4.5-hour drive from Louisiana's western border, and a roughly 6-hour drive from New Mexico's eastern border.
While it's easy to feel like a fish out of water in a new place, we'll help you learn how to adjust with ten helpful tips.
1. Have a Conversation with Your Loved Ones
A permanent change of station is a big change for everyone involved. Ensure your family is on the same page, including in-laws or other extended relatives that you may be moving farther away from. What does staying in touch look like—video and phone calls every weekend, or periodically taking trips down to Texas? Creating that plan can be reassuring for both you and your relatives.
2. Learn Everything You Can About Your New Duty Station
Fort Hood may be one of the most well-known military bases in the United States, but you should still do as much research as you can, both about the base and your role. Find support groups on social media, dive into Fort Hood's official community guide, and talk to service members currently stationed in Killeen. 
3. Research Neighborhoods in the City of Killeen
If you plan to live off-base for your PCS move, do some research about potential neighborhoods you may consider moving to. The city of Killeen has a population of roughly 153,000 residents, and nearly 40 neighborhoods to choose from. Popular neighborhoods in Killeen, TX, include:
Chaffee Village
Maxdale/Youngsport
McNair Village
Lone Star
E Stagecoach Road/Mountain Lion Road
Additionally, if you don't mind a longer drive to the base, you may consider moving to one of the communities around Killeen, such as Harker Heights, Nolanville, and Copperas Cove.
4. Update Your Wardrobe for Killeen's Weather
If you're moving to Killeen from farther up north, be prepared for the shift in climate! Killeen's year-round weather is significantly warmer than the weather in other parts of the country. Between November and February, you can expect an average high of 67 degrees.
The hottest time of year for Killeen is between June and September, with an average high of 89 degrees. Be prepared to keep your heavy winter clothes in storage for most of the year!
5. Get Familiar with the School District
If you have kids in school, contact the administration office to gather as much information as you can during your permanent change of station. Killeen is home to the Killeen Independent School District, which includes:

Killeen Elementary School
Manor Middle School
Killeen High School
6. Find Things to Do in Killeen, TX
A huge part of a successful PCS move is embracing your new home. You can find plenty of things to do in and around Killeen, TX. Beat the Texas heat at the Lions Cub Aquatics Park, or catch a show at Vive Les Arts Theatre.
Looking for some retail therapy after your PCS move, or need to update your off-duty wardrobe? Head to Killeen Mall and enjoy the air-conditioning while you explore the shops. Other things to do in Killeen include:
Great Escape of Central Texas
Stillhouse Wine Room
Jokes IceHouse Bar & Grill
Stonetree Golf Club
Altitude Trampoline
Killeen Bowlerama
Project Scuba
Axed Out Texas
Don't mind taking a road trip? Enjoy an extended adventure and visit the nearby cities of Austin, San Antonio, or Dallas.
7. Find Killeen Activity Groups and Clubs
Finding things to do in Killeen is great for exploring the area, but remember to build community, too. The Killeen Family Recreation Center is a great place to start! Find volunteer opportunities, athletics clubs, community events, or just stop by the rec center for a workout. Other opportunities to get involved in the Killeen community include:
8. Take Advantage of Public Transportation
Figuring out how to navigate a new town can be overwhelming. If you need more time getting comfortable driving around Killeen, try the HOP! Established in the 1960s and operated by Hill Country Transit District, the HOP is a regional public transition system.
When you have time off, study its routes, find one that interests you, and start exploring your new home without the stress of driving. Taking public transit can also help you save on gas money!
9. Have a Plan for Organizing Your New Home
Keeping your belongings organized after your permanent change of station move to Killeen depends on a few factors: Are you moving by yourself, or with your family? How big is your new house or apartment? How much storage space do you really have?
You may have had an attic, garage, and basement in your old home, but that may not be the case in Killeen, TX. Take an inventory of your belongings and identify areas of your home that can be modified for storage with shelving, organizers, or under-the-bed storage.
10. Rent Self Storage with Otter Self Storage
You have a lot of things to juggle for your PCS move to Killeen, TX: Let Otter Self Storage lighten the load. Whether you need short-term storage while you settle into your new home, or you need to create more storage space for your smaller house or apartment, we have you covered.
Our Killeen self storage facility offers a wide range of storage unit sizes, features, and amenities. Keep winter clothes in a 5' x 5' unit or keep furniture and workout equipment in a 10' x 10' or 10' x 15' unit. We even offer exterior vehicle parking for RVs, boats, and trailers. Plus, you can keep your belongings out of the hot Texas heat with our climate controlled storage!
Discover Your Killeen, TX, Self Storage Unit with Otter Self Storage
Ready to take some stress out of your PCS move to Killeen, TX? Trust Otter Self Storage. In addition to our affordable self storage solutions, our facility on E Veterans Memorial Boulevard is completely contact-free. Skip office hours and long lines at the counter and rent a unit anytime, anywhere.
Your military storage unit is waiting at Otter Self Storage. Rent your unit online today!
More From Otter Storage Management, LLC