Space-Saving Ideas for Tallahassee Apartments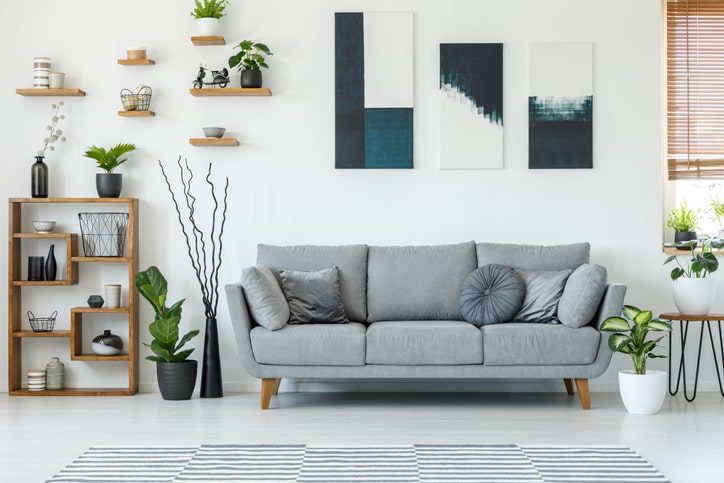 The cost of living in Tallahassee is not only lower than the national average, but it's also lower than the cost of living in Florida! Even so, Tallahassee's urban-suburban mix makes it a popular place to live, which means that space can often come at a premium.
Whether you're a young adult who recently moved to the area, or are a college student, it's very possible that your apartment might not be too fancy while you're getting used to the area. Maybe you prefer a smaller space because you plan to be out getting to know the city. Whatever your reasoning, your small Tallahassee apartment doesn't have to feel like a prison cell. There are plenty of ways to maximize space in your apartment. With a handful of storage tips and solutions, Otter is here to help you make the most of your small Tallahassee apartment!
Invest in Multi-Use Furniture
The easiest way to maximize space in your small apartment is to invest in multi-use furniture. This is a great option if you live in a studio apartment that you'll need to turn into a different space throughout the day. Furniture like pullout couches and futons are the best examples of multi-use furniture.
Another furniture piece that can pull double duty is a room divider shelf. Not only can you create a conversation piece, but you can also divide your space more definitively and add a sense of flow to your small apartment rather than it feeling like a cluttered room. Platform beds that include a bookshelf headboard and lower drawers are also a great solution to storing clothes and books with one convenient piece of furniture.
Install Additional Shelving
Sometimes buying furniture can alleviate your storage problem but not your space problem. If you overdo the number of furniture pieces around your home, you run the risk of your home feeling crowded, smaller, and very closed off in some areas. To avoid this effect, adding wall shelving might give you the space needed to store items like books, plants, and other items while still creating a cute decor piece that allows you to showcase your personal flair. You can even use baskets and other stylish containers to store junk drawer items, for example, without making your home look cluttered.
Utilize Hideaway Storage
If your walls start to feel a little crowded, it's time to start using the space under your furniture. Sure, hiding items in your closet is a good way to hide clutter and other items you don't really need, but chances are you've stored everything you can in your closet without it becoming so cluttered that you can't find anything. If that's the case, storing items under your bed or dresser is the logical next step. Store your shoes in a shoe cart under the bed or invest in over-the-door storage for your spices and other pantry items.
Ultimately, this form of storage allows you to keep a clean-looking space while still keeping the items you need in your home.
Hideaway Furniture
Similar to hideaway storage, hideaway furniture is helpful because you can hide it away or fold it down into a smaller piece that can easily be stored in your apartment. For example, if you live in a studio, transforming your space into an entertainment space with friends is easy if you have a fold-up bed or even a pullout couch. You can also create a cozy dinner date with a folding dining table and chairs.
Get Rid of Some Items
While this is a last resort, this might be the moment where you really need to assess what you have and decide whether or not you need everything in your Tallahassee apartment. If you're holding on to rundown shoes you no longer wear and that don't have sentimental meaning, consider throwing them away. If you have fairly new clothes you don't wear, sell them at your local consignment store or donate them to an organization in need. You may find yourself gaining back more space than you thought.
Pay Attention to Your Décor
If you live in an apartment, you may be limited on what you can and can't do with your space, but there are a few design elements you can incorporate into your small Tallahassee apartment that can make your space feel a bit bigger:
1. Mirrors
Mirrors have the ability to make any space feel bigger, so tastefully adding mirrors throughout your studio apartment can trick the eye into believing you're looking at a large space.
2. Develop a Color Scheme
While you may not be able to paint your apartment, you can adopt a color scheme to use with your furniture and other décor accents. With smaller spaces, a lighter color is best to make your space feel larger. If you want to take it a step further, adopting a monochrome color scheme where you incorporate various shades of one color is one way to make the furniture in your space look like it takes up less room in your apartment.
3. Decorate Vertically
Similar to how vertical lines make you look taller, designing upward can also make your space look bigger because the eye is drawn upward. Designing upward can mean utilizing tall shelving or mounting floating shelves on the walls.
Maximize Your Tallahassee Apartment Space With Otter Self Storage
If you've decluttered, maximized your space from top to bottom, and still don't have enough space to store all of your belongings, consider renting a storage unit and expanding your available space. At Otter Self Storage, we have a number of storage unit sizes to choose from. Pick a small 5' x 5' unit to store a few boxes and clothing, or opt for a large 10' x 30' unit if you're temporarily living in an apartment and looking for a permanent home.
Living in Tallahassee is an unforgettable experience, and living in a cluttered apartment isn't how you want to make memories. Find the space and storage features you need at our Tallahassee storage facility and rent your unit online today!
More From Otter Storage Management, LLC