The Essential Guide for Moving to Baton Rouge, LA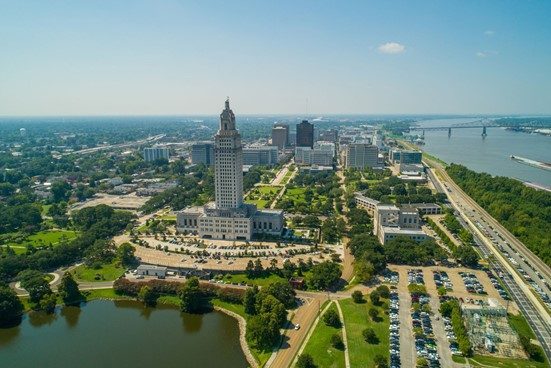 Rich in history and nestled comfortably against the Mississippi River, Baton Rouge is the capital of Louisiana and boasts a population of about 227,000. You might be wondering: what does Baton Rouge mean? Well, it's a French term for "red stick," named after the Mississippi River bluff, part of the natural beauty that appeals to those who live in the area.
Whether you're moving to the city for work, school, or because you heard about Louisiana's immaculate cuisine, there are a lot of moving parts to consider, including where you'll put any belongings that you don't have an immediate need for.
Otter Self Storage wants to do the legwork of helping you understand the pros and cons of moving to Baton Rouge, LA, discuss why Baton Rouge is a good place to live, and how self storage can help ease your transition into a new home.
Baton Rouge Cost of Living
According to bestplaces.com, the cost of living in Baton Rouge can be divided into several meaningful categories, including the median home cost, as well as the averages for different apartment types.

The median home cost in Baton Rouge is $198,400. This puts it below the national average of $291,700. For apartments, the average rents are $765 for a one-bedroom unit, while $898 is the average for a two-bedroom unit. All of this together means that, in terms of mortgages and rental costs, Baton Rouge is reliably affordable compared to the rest of the country—especially other populated urban settings. PayScale indicates that Baton Rouge is batting better than the national average not only in housing costs, but groceries, transportation, and utilities, as well.
However, Baton Rouge does seem to be more expensive than the national average in terms of healthcare, with medical services costing approximately 14% more than elsewhere in the country. All in all, though, Baton Rouge is an affordable place to live.
Baton Rouge School Districts
Niche.com ranks school districts based on student and staff reviews, as well as state test scores, graduation rates, college readiness, public school district rankings, and more.
Zachary Community Public Schools is ranked #1 according to Niche, with Central Community Public Schools at #2, and Livingston Parish Public Schools in #3. However, the majority of schools in Baton Rouge have overall positive ratings according to the criteria put forward by Niche.
What's the Temperature in Baton Rouge?
The annual weather averages for Baton Rouge, according to timeanddate.com, suggest that it's a middling climate around the year—Baton Rouge isn't prone to especially hot, nor especially cold days, August averages the hottest highs at 83 degrees Fahrenheit, while January averages the coldest days at 52 degrees. June sees the most rainfall at 3.07 inches, and the city is not prone to strong winds regardless of the month.
If you're interested in living in a place with mild winters and cool summers, Baton Rouge might offer the middle ground you want.
What to Do in Baton Rouge
Of course, when moving or visiting somewhere new, you want to know what that place has to offer for food and entertainment. Fortunately, Baton Rouge has no shortage of options to keep yourself busy morning, day, and night.
Nightlife
For bars, cocktail lounges, and other nightlife accommodations, look no further than Bella Noche, a nightclub that will satisfy your craving to dance, as well as a good drink with friends. There are plenty of other nightlife options for you in Baton Rouge, so ask around where you live. You'll be sure to find a local favorite.
Food
Louisiana has no shortage of delicious foods to choose from, and Baton Rouge is no exception. We are especially fond of the Americana found at SoLou, and the City Pork Brasserie & Bar, which features some of our favorite barbecue in the entire city. For a more Asian flair, we recommend Chow Yum Phat, which capitalizes on the best of various Asian fusion options. The ramen is delightful.
Outdoor Activities
Some of the best parts of Baton Rouge exist outdoors. Take a walk around the tranquility of Milford Wampold Tranquility Park, set up a picnic at Blackwater Conservation Area, or test your mettle at the Rock Climbing Tower and see how high you can climb.
Time to Move to Baton Rouge!
Does Baton Rouge sound like it's striking a lot of your boxes? We completely understand; we love Baton Rouge, too! We think Baton Rouge is a good place to live, that's why we put two different facilities there to provide support for anyone who has storage needs! You can find our Baton Rouge storage facilities on Parkway Drive and Richcroft Avenue.
Whether your move transition only requires a little extra space or you could benefit from a large storage unit, Otter Self Storage has you covered! Take a look at our available locations and find the spot nearest to where you intend to live, so we can work to help your transition as stress-free as possible!
More From Otter Storage Management, LLC